PROJECTS

VELIKI CEVAPCIC
Ljubljana, 2008

INCOMPIUTO SICILIANO
from 2006

COPY_RIGHT_NO_COPY_RIGHT
Manifesta 7 Rovereto 2008, Shanghai 2007, Milano 2005

SOMETIMES YOU MUST BREAK THE RULES
Eindhoven 2007

NIGHT TALK OF THE FORBIDDEN CITY
China 2007

VIOLENT ATTITUDE
Shanghai 2007

THE AESTHETIC OF DRUGS
Taipei 2008, Reggio Emilia 2007

MEDITERRANEO
New York 2006

NO THINK NO PLAN NO SLEEP
Falluja 2006

IF YOU HEAR SOMETHING, SAY SOMETHING
New York 2006

1-800-IRAKI-ARTS
New York 2006

WAITING FOR THE TSUNAMI
Worldwide 2005

LIGHT WAVES
from 2005

LEGAL SUPPORT
Shanghai 2007, Moscow 2006,
Genova 2004
Alterazioni video
VIOLENT ATTITUDE
Alterazioni Video's pratice of work
Shanghai 2006

exhibited:
Remote Control , curated by Wenny Teo and Ella Liao, MoCA, Shanghai, China
Agitation is common in artists with acute schizophrenia or bipolar mania, and when severe can result in agressive or violent attitudes.
Pharmacotherapy for acute psychotic agitation includes the use of antipsychotic and benzodiazepine drugs, either alone or in combination.
Until recently only conventional antipsychotic and benzodiazepine drugs were available as intramuscular injections. Four randomized placebo and comparator controlled, double-blind clinical trials have demonstrated the efficacy of ketamina in reducing acute agitation in artists with violent behaviour and vascular dementia. Evidence from these clinical trials has shown that violent attitudes associated with natural drugs couse radical beheviour and bipolar mania. Current clinical experience and one naturalistic study with intramuscular ketamina suggest that it is efficacious and can be safely used in "real world" artists with severe agitation. This new formulation may offer an alternative strategy in the treatment of acutely ill, noncompliant schizophrenic artists. Evidence suggests that the new formulations should be among the first-line choices in the treatment of agitation in acute psychosis and violent attitudes.
The installation includes:V.A. (2 years of chat history)wall paper,some cutting from ASPETTANDO LO TSUNAMI a bankruptcy tv live show,HARD WORK a selection of the best video that we shoot for some farmaceutical company just to survive,LIVING IN A GALLERY a 1 week performance in a small gallery in berlin shooted in super8,RESISTANCE Deleuze,Debord and Bene acting like terrorist...and many more video that you can't find on youtube.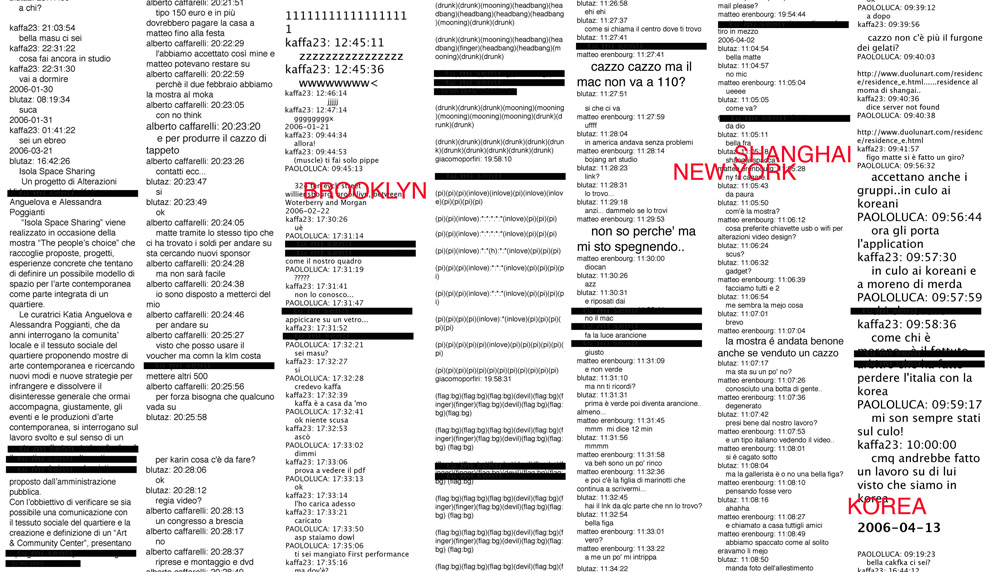 installation view, MoCa Shanghai