PROJECTS

LAVAZH PARTI
Tirana 2011

ROSA PERFETTO
CENSORED SHOW, Ravenna, Italy 2010


ALL MY FRIENDS ARE DEAD
Bandjoun / Cameroon 2009

SYMPHONY N.1
New York 2009

I WOULD PREFER NOT TO
Milan 2009

VELIKI CEVAPCIC
Ljubljana 2008

INCOMPIUTO SICILIANO
from 2006

COPY_RIGHT_NO_COPY_RIGHT
Manifesta 7 Rovereto 2008, Shanghai 2007, Milano 2005

SOMETIMES YOU MUST BREAK THE RULES
Eindhoven 2007

NIGHT TALK OF THE FORBIDDEN CITY
China 2007

VIOLENT ATTITUDE
Shanghai 2007

THE AESTHETIC OF DRUGS
Taipei 2008, Reggio Emilia 2007

MEDITERRANEO
New York 2006

NO THINK NO PLAN NO SLEEP
Falluja 2006

IF YOU HEAR SOMETHING, SAY SOMETHING
New York 2006

1-800-IRAKI-ARTS
New York 2006

WAITING FOR THE TSUNAMI
Worldwide 2005

LIGHT WAVES
from 2005

LEGAL SUPPORT
Shanghai 2007, Moscow 2006,
Genova 2004
Alterazioni video
SOMETIMES YOU MUST BREAK THE RULES
Burger King advertising campaign
2007

exhibited:
Forms of Resistance , Artists and the desire for social change from 1871 to the present, curated by Marco Scotini, Van Abbemuseum, Eindhoven, Netherlands
There is no difference anymore between riot and the sale of insurance contracts, frontal collision, shut down and trainers, everything is used, everything becomes a useful tool to produce and open up new market areas.
The appropriation by the collective, of the image of social production, has always fed the adverstising business and industry. For example, one can think of Nike's economic fortune raised through marketing the manners and behaviour of the black ghetto, exalting this aspect in the commercials and continuing to sell them their products.
The Marketing regime engulfs everything and everybody, through television, through the language of advertising, digesting the notion of rebellion, contestation, and taunting; appropriating their values, yet pursuing its only purpose: to create faithful consumers.
There seems to be no escape from this game, in which, for instance, a multinational company like Burger King feels no shame in publicizing its' new Onion Rings with the claim "sometimes you must break the rules"; but this too is an old trick.
The mass culture created in the 60's inaugurated the transformation of the consumer's role, from that of the participating/active user to that of the passive spectator, today reduced to the 'tele-viewer', for whom riot scenes in city squares and quiz shows follow indifferently on the television screen, without creating any upset within the reassuring domestic walls.
The conflicts are resolved with the use of irony which proposes a simple game to be understood and of which one may easily become an accomplice, drawing fulfilment in being part of the rhetorical trick, understand the story told, where everything becomes a joke, a gag.

Reading into advertising communication carefully allows us to discover some of the mechanisms that build consensus; that of neutralising conflict, that of flattening all positions.
The work wants to map out television language, identifying the proceedings for contextualising, in our turn, the production of advertising imagery, trace other coordinates, collective pathways and memories.

SOMETIMES YOU MUST BREAK THE RULES
wall-paper
500 x300 cm.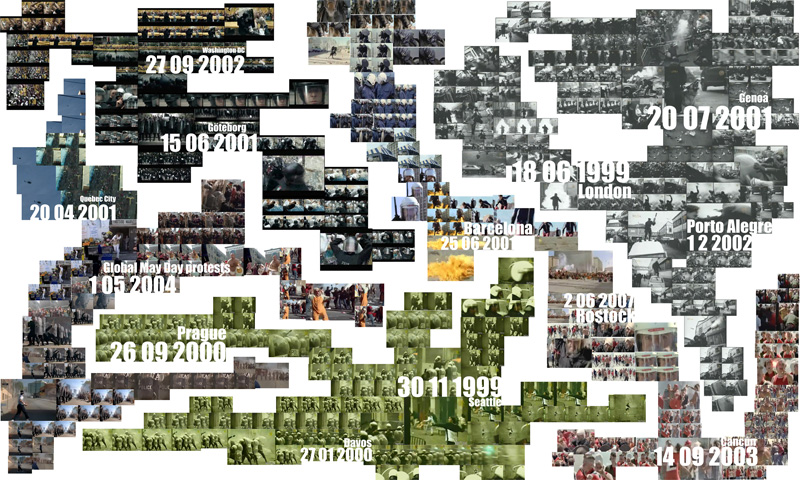 wall-paper details